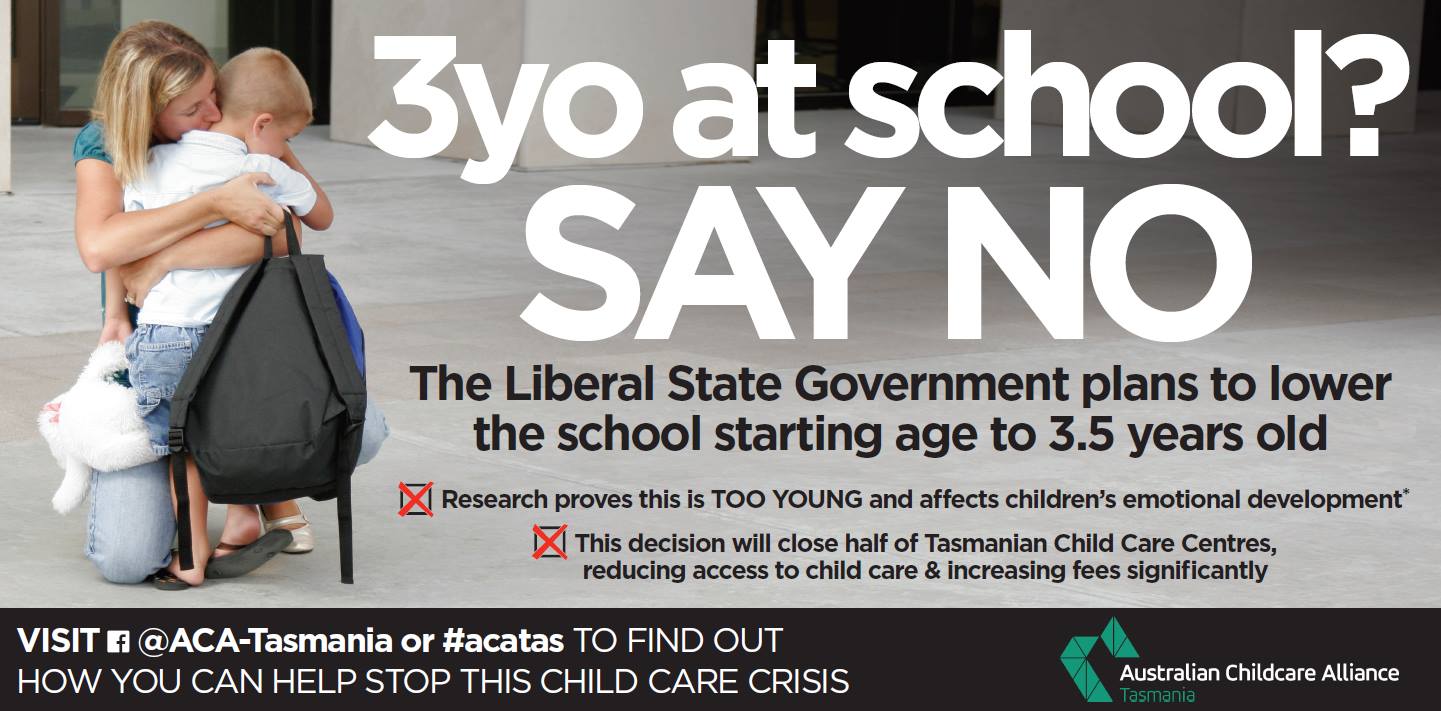 The ACA has recently set up a new state body in Tasmania, with the help of a passionate group of local Early Childhood Education and Care (ECEC) service providers, in order to immediately address Tasmania' s emerging childcare crisis.
What is the problem?
The Liberal State Government plans to lower the school starting age to 3.5 years by 2020.
This goes against the best practice research from Australia and around the world which demonstrates that younger is not better when it comes to starting school and does not give children any academic advantage… in fact it can do the opposite.
This would create many issues:
For Children
Research proves that this is too young ; starting later is better for children's emotional, educational and social development. Children need play to become motivated learners.


If children do not have the opportunity to test and develop their self-regulation, impulse control and problem solving skills prior to starting school, then they are less likely to succeed in a school environment. They are also more likely to be referred to specialist services for concentration issues.


If children (especially those from disadvantaged backgrounds) have a less than successful transition to school in their first six months, this can lead to disengagement from an early age, ultimately resulting in truancy and drop outs in later years.


This experiment has already failed in Western Australia.
For Families
Children will be able to attend school at 3.5 years old which means many families suffering financial hardship will withdraw children from play-based learning at Early Childhood Education & Care services, rendering these services unviable and causing closures mainly in regional areas.


This will result in less access to childcare places in each community and the remaining services will have significantly higher fees for families requiring childcare for all children under three years of age.


This will disadvantage working families - instead of having one familiar place to get used to, young children over 3.5 years will need to attend Before School Care, then Kindergarten in school and then After School Care. Researchers point out that many transitions throughout the day cause additional stress for children and may affect their emotional wellbeing.


This also means that 3.5 year olds will be in Outside School Hours Care (OHSC) with children as old as 12 years old, often in large school halls/ gyms with limited adult supervision.
For Kindergarten Teachers
Kindergarten teachers will have to work with only one teacher's assistant with up to twenty-five 3.5 year olds to manage, including toileting, meal times, naps and any behavioural issues.


However because the starting age is not compulsory, some parents may hold their child back, increasing the age range within the class room to 18 months. This makes it difficult for kindergarten teachers to assess children's development and cater to younger children's needs; this in fact further disadvantages already disadvantaged children.
For Service Operators & Communities
Over 50% of Early Childhood Education & Care services in Tasmania are likely to become unviable and therefore close down, many in regional areas such as the Midlands, East Coast, Circular Head and Huonville areas.


Therefore educators will lose their jobs and create a negative economic impact within their families and communities.


Many other businesses and suppliers to the Early Childhood Education & Care sector such as training providers, caterers and cleaning suppliers will also be economically affected.
For Early Childhood Educators
Over 500+ childcare educators are likely to lose their jobs and will find it difficult to find other jobs with fewer positions available.
Economically
The Tasmanian Government aims to invest over $100 million of tax payers' money replicating early learning environments in primary schools, which already exist in the Early Childhood Education & Care services. This is unnecessary expenditure on infrastructure, resources and training when the EC&C sector already provides this for the families and the community.
What can I do to make a difference?
Join the campaign to prevent this crisis from occurring in Tasmania!
Sign our petition stating your opposition to this policy, for inclusion in our lobbying activities.


If you are an ECEC service provider, become a member of the Australian Childcare Alliance Tasmania for just $50 for 6 month membership.
All membership fees will go direct to funding lobbying against the proposed changes. Download the

pdf

membership application form

(408 KB)

.
How can I find out more?
Follow the ACA Tasmania Facebook page and share it with your professional network, families and educators.
For more detailed information about this important cause, please contact:
Tammy Bennett (Bagdad Childcare & Early Learning Centre, Bagdad) on 0427 685 280
Trudi Quinn (DMP Early Learning, Launceston) on 03 6331 8737
Or email general enquiries to

This email address is being protected from spambots. You need JavaScript enabled to view it.

.
Supporting Evidence
Media Articles

Academic research
'Moving up the Grades: Relationship between Preschool Model and Later School Success', Rebecca A. Marcon, University of North Florida
'Study finds improved self-regulatuion in kindergarteners who wait a year to enrol'. Standord Graduate School of Education
Jay, J., Knaus, M. & Hesterman, S. (2014). High Quality Early Childhood Education in the Early Years of School. Every Child, 20(3), 22-23
Barblett, L., Knaus, M.& Barratt-Pugh, C. (2016). The pushes and pulls of pedagogy in the early years: Competing knowledges and the erosion of play based learning. Australasian Journal of Early Childhood, 41(4), 36-43
Berk, L., & Meyers, A. B. (2013). The Role of Make-Believe Play in the Development of Executive Function: Status of Research and Future Directions. American Journal of Play, 6(1), 98-110
Bodrova, E. (2008). Make-believe play versus academic skills: a Vygotskian approach to today's dilemma of early childhood education. European Early Childhood Education Research Journal, 16(3), 357-369, doi: 10.1080/13502930802291777
Norbury, C.F., Gooch, D., Baird, G., Charman, T., Simonoff, E. & Pickles, A. (2016). Younger children experience lower levels of language competence and academic progress in the first year of school: evidence from a population study. Journal of Child Psychology and Psychiatry 57:1 pp.65-73 Pennsylvania State University Press : Pennsylvania
Department of Education, Employment and Workplace Relations (DEEWR). (2009). Belonging, Being and Becoming: Early Years Learning
Robson, S. (2010). Self-regulation and metacognition in young children's self-initiated play and Reflective Dialogue. International Journal of Early Years Education, 18(3), 227-241, doi: 10.1080/09669760.2010.521298
Sakic, M., Burusic, J. & Babarovic, T. (2013). The relation between school entrance age and school achievement during primary schooling: Evidence from Croatian primary schools. British Journal of Educational Psychology, 83, 651-663
Stegelin, D.A. (2005). Making the case for Play Policy: Research-Based Reasons to Support Play Based Environments. Young Children 60(2) 76-85.
Whitebread, D. (2012). Preschool children's social pretend play: supporting the development of meta-communication, metacogition and self-regulation. International Journal of Play 1(2), 197-21