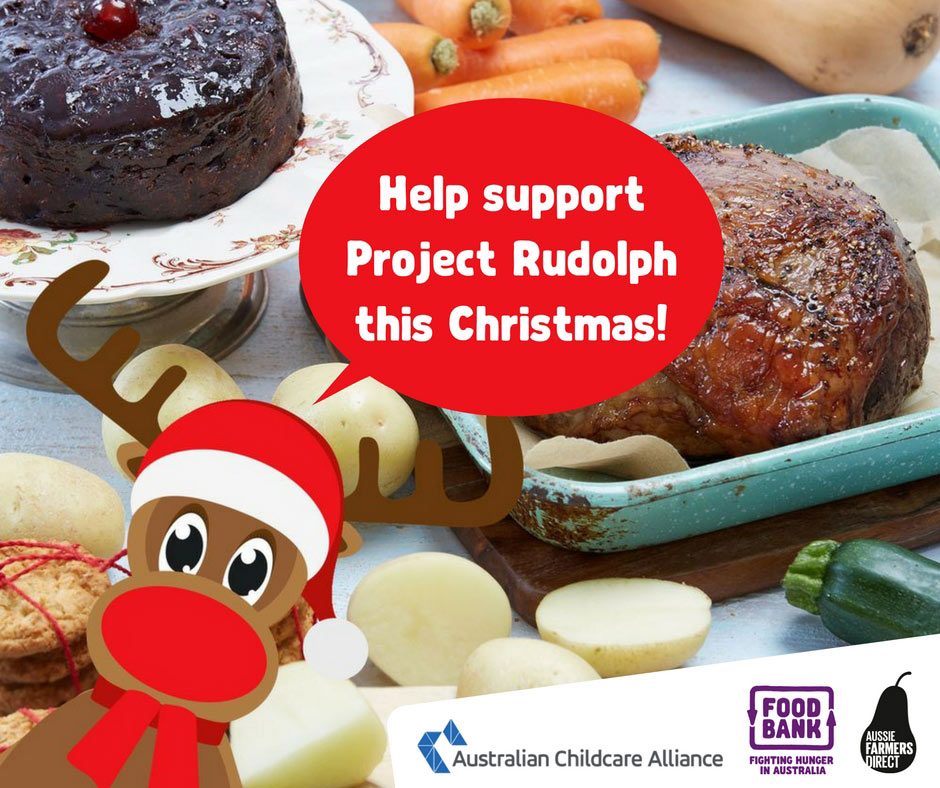 The ACA is proud to support Project Rudolph, a joint initiative between Aussie Farmers Direct and Australia's largest hunger relief organisation, Foodbank.
Project Rudolph gives Australians the chance to give Christmas meal boxes to struggling Aussie families this Christmas. By providing the essential ingredients for a family dinner – roast meat, carrots, spuds, pumpkin and of course, Chrissie cake – Australians can help spread the joy of Christmas and ease the stress for a family doing it tough this festive season.
With so many families with young children across Australia experiencing food insecurity (a lack of access to a sufficient supply of affordable and nutritious food), we are encouraging early childhood education and care services to chip in to help families in need this Christmas.
According to the Foodbank Hunger Report 2016, 1 in 6 Australians reported experiencing food insecurity in the last 12 months alone. Of the 644,000 people accessing food relief every month, a third are children. In fact, low income and single parent families are the biggest groups turning to charity agencies for assistance.
Being a part of Project Rudolph is easy – just follow these simple steps:
Organise a fund-raising activity at your centre such as:

a gold coin 'dress up for Christmas' day
a Christmas bake sale (parents donate baked goods to sell)
a gold coin Christmas performance for parents
a Project Rudolph collection tin or box in your reception area
(You can print this label out for your tin/box -

image

Project Rudolph Label

(525 KB)

.)

Print out and display the Project Rudolph poster in your centre -

pdf

Project Rudolph Poster

(765 KB)

Encourage the families at your service to make a donation
Direct deposit your funds to the ACA Project Rudolph appeal
by clicking on the button below.
Please deposit funds by Thursday 15th December.
With the funds raised, the ACA will buy the hampers from Aussie Farmers Direct, who will pack up all the ingredients the week before Christmas. Our friends at Foodbank, the largest food relief organisation in Australia, will then deliver Project Rudolph boxes to eligible families across Australia.
For more information about how your service can get involved, please contact your state ACA body.
Alternately, if you wish to purchase a hamper directly for donation, or encourage the families at your service to do so, please click here.
For more information about Foodbank Australia, please click here: www.foodbank.org.au
For more information about Aussie Farmers Direct, please click here:www.aussiefarmers.com.au