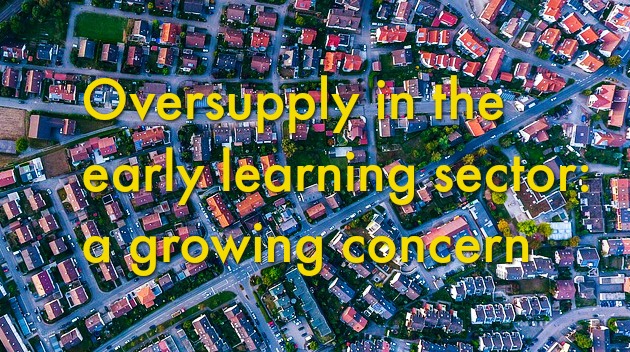 The early learning sector has observed the issue of oversupply becoming more and more of a problem in recent years.
With few barriers to entry for new or existing providers to set up new centres, the saturation of childcare centres in certain geographic areas has led to many services experiencing lower utilisation or being squeezed out of business.
If not addressed, oversupply will lead to increased costs for families and may impact on the quality of services in local communities.
However with the right policies in place, we can ensure a sustainable early learning sector that continues to provide families with affordable high quality early learning services, thus giving Australia's youngest generation the best start in life.
In this context, the Australian Childcare Alliance (ACA), Australian Community Children's Services (ACCS) and the Early Learning and Care Council of Australia (ELACCA) have joined forces to research this issue and engage with relevant government departments and planning authorities, to work towards addressing the growing issue of oversupply in some areas.
Below is an excerpt from an article written by Simon Evans, which originally appeared in the Financial Review on 5 September 2018, which includes comments from Paul Mondo, ACA National President (and also ACA VIC President):
Why your childcare fees aren't falling in an oversupply
Punishing lease costs which are tied to the number of licensed childcare places in a centre and not how many children are actually attending is one of the major reasons why childcare fees aren't dropping for families in a market awash with oversupply.
The fixed costs aren't budging for childcare centre operators who signed a long-term lease when conditions in the industry were much brighter, and they are generally unable to respond to the flood of new entrants into the sector, with more than 326 centres opening across Australia in the past year.
Paul Mondo, the Victorian president of the Australian Childcare Alliance, an organisation which oversees the interests of 400 privately owned childcare centres in the state, said lease costs were fixed and on average were pegged at between $2500 to $4000 per childcare place.
A centre with 100 places faced annual rental costs of $250,000. "That cost doesn't increase or decrease depending on your occupancy level," Mr Mondo said.
"That's why so many operators are feeling the pinch," he said. "It is a noose around the neck".
Mr Mondo said the childcare oversupply was at its worse in the growth corridor outer suburbs of Melbourne and Sydney and the organisation was in the process of collecting accurate data about where the worst pockets of oversupply were in Australia. There are more than 7300 long daycare centres in operation in Australia and the market has rapidly swung from a shortage of childcare places three years ago to an oversupply.
Mr Mondo said the length of leases varied from centre to centre but most were generally 15 years, with a 10-year option to renew. "You are kind of tied to where you are," he said. Many leases had annual 4 per cent increases built into them also, regardless of market conditions. He said higher energy bills from rising electricity and gas costs were also a restraint, while increased wage costs from the mandatory increase in staff to child ratios laid down by authorities had also kept costs high.
With less children in a centre, the costs of providing meals and quality care did fall, but the onerous lease costs remained and kept rising each year. Many operators were powerless to respond to market forces in their particular area. "In terms of market forces it doesn't work in a traditional sense," Mr Mondo said.
Mr Mondo said there had been virtually no restrictions on where childcare centres could be built, and developers had accelerated construction of centres in growth corridor suburbs ahead of anticipated population growth, buoyed by the cheaper cost of land in outer suburbs. "It's a bit like prospecting," he said.
He said more centres were now on the market as operators looked to sell even with low occupancy levels because the rents they needed to pay were too high.