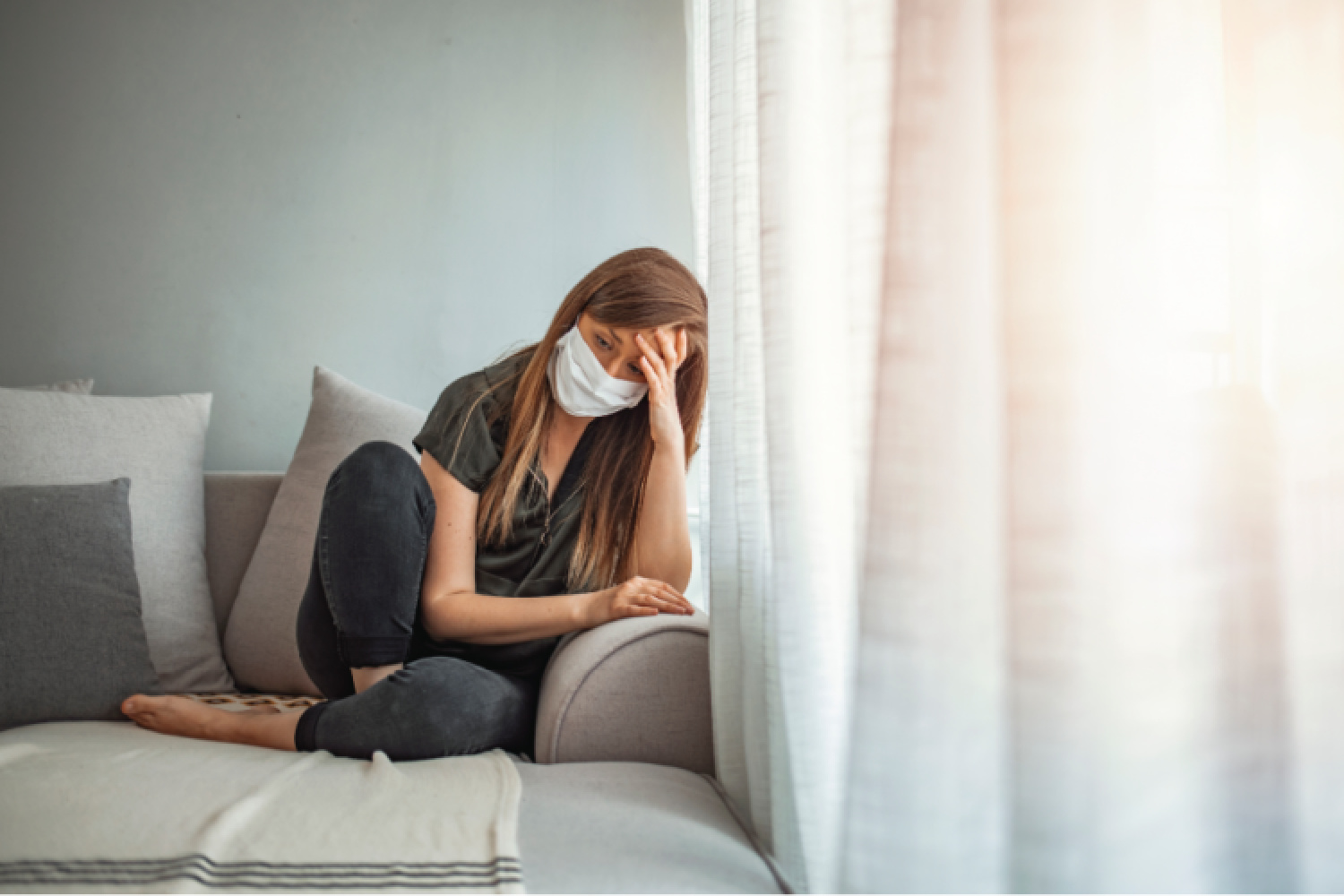 This article is brought to you by MetLife, Child Care Super's insurance provider. Child Care Super works closely with MetLife to ensure their members and their familes are protected should anything happen to them. The article provides you with useful tips and information about how to look after your health and well-being, because good health is your greatest asset.
Mental ill-health: Understand what to look out for and how to get help
Major mental illnesses rarely appear out of the blue. There are often small changes or feelings that "something is not quite right" about peoples' thinking, feelings or behaviours. It is important that we understand what to look for and what to do.
At this time of social distancing we need to be even more mindful of understanding the symptoms of mental ill health so that we can support each other and stay connected as best we can. With such a substantial change in our lives, it is likely many of us will have some fear and anxiety – this is normal. When it starts to impact our life, we need to ensure we take action. With social isolation, it is harder for others to see some of these signs and therefore it is critical to stay in contact via voice, and where possible video, as well as looking for these signs in yourself..
The critical steps are:
1/ Don't be shy to ask colleagues, friends and family how they are going mentally - and listen.
2/ Don't be afraid to share your own feelings on how you are going mentally if asked.
3/ Do reach out to others if you are concerned about yourself to people you know and trust.
Looking out for others
One or two of these things can't predict a mental illness but may be prompts to stay in closer contact and ask more questions.
If you are concerned be open, honest and try to get them to seek help.
THINGS YOU CAN HEAR
When on a call with a colleague, friend or family – listen carefully forany changes to normal like:
Emotional outbursts. Rapid or dramatic changes in emotions or unusual anger or laughter.
Quiet or withdrawn. When communicating you sense a drop in their interaction or a loss of interest in something you know that would normally engage them.
Problems thinking. Noticing a loss of concentration, illogical speech or they are finding it hard to explain things.
Apathy. Failure to participate in calls or cancelling continually.
Illogical thinking. Unusual or exaggerated beliefs about what is happening and unrealistic thoughts.
Nervousness – suspiciousness,changed voice, flat or monotone speech.
THINGS YOU CAN ASK
It is critical that we ask questions about peoples wellbeing even when we think that they are well as sometimes it is what you can't see or hear
that is having a greater impact. So try asking:
How is your sleep? Sleep is critical for our health and lack of sleep or poor sleep patterns could be a sign of mental ill health.
How is your appetite? Large changes in appetite either up or down can be a sign that something is not quite right.
Are you drinking more? If you have concerns, and feel there are a number of signs, you shouldn't be afraid to ask this one. Share your thoughts and support and listen.
How is your mental health? Some people just need to be asked. In the current circum-stances, we should not be afraid to ask if someone is ok and even ask if they are feeling anxious or depressed. We need to remove the stigma and share our feelings.
Can I help you? Sometimes people will share that they want or need your help.
THINGS YOU CAN SEE
Try to connect with friends, colleagues and family via a video platform soyou can see them and look for:
Unusual behaviours. More fidgeting than usual, not looking at you, continual hand movements that are different to normal. Look
for things that are uncharacteristic.
Change in appearance. Rapid weight gain or weight loss. Unusual reduction in self grooming.
Drop in functioning. An unusual drop in work performance, output,engagement in things that are of interest.
Where to get help if you think you need it
If you, or someone you know needs help and are not coping, here are some links and numbers to contact.
Reaching out is winning, it should not be considered defeat.
REMEMBER: Listen, Look and Ask. IF YOU THINK THAT THERE IS AN IMMEDIATE RISK OF SELF HARM, CALL (000).
Tel: 1800 060 215 (8am–7pm AEST) or visit childcaresuper.com.au
360Health provides solutions to help prevent and manage serious illnesses at every stage of your health journey so that you can360Health provides solutions to help prevent and manage serious illnesses at every stage of your health journey so that you canlive healthier for longer. MetLife 360Health, your health partner.
360Health services are not provided by way of insurance (including health insurance) and the provision of these services is not dependent on the occurrence of an insured event under the policy. Access to these services will be at MetLife's absolute discretion and MetLife reserves the right to discontinue or change the services at any time. The information provided is general information only and is not health or medical advice. If you have a health or medical concern, please seek professional medical advice immediately. You should always consult a licensed health care professional for the diagnosis and treatment of any medical condition and before starting or changing your health regime.
Whilst care has been taken in preparing this material, MetLife Insurance Limited (MetLife) does not warrant or represent that the information, opinions or conclusions contained in this presentation (information) are accurate. To the extent permitted by law, MetLife does not accept any responsibility or liability arising from your use of this information. This information was current at the time of publishing. Guild Trustee Services Pty Ltd. ABN 84 068 826 728. AFSL 233815. Trustee for the Guild Retirement Fund (which includes GuildSuper and Child Care Super) ABN 22 599 554 834. RSE Licence Number L0000611. This document contains general advice only and doesn't take into account what you currently have, want and need for your personal circumstances. It is important for you to consider these matters and read the Product Disclosure Statement (PDS) before you make a decision about a superannuation product. You can get a copy of the PDS by calling 1800 060 215.